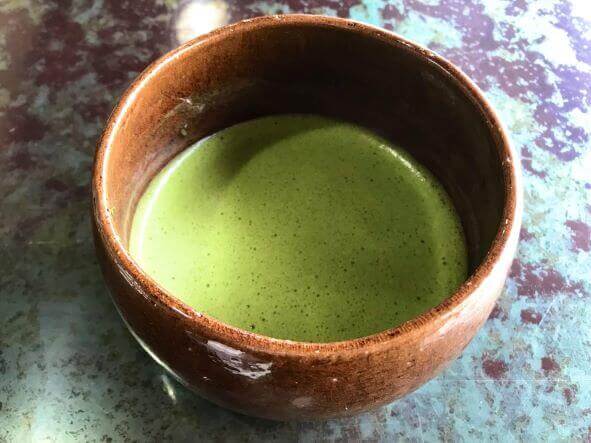 The definition of "Matcha" according to the Japan Tea Central Public Interest Incorporated Association is, "Fine powder made by grinding up Tencha with a handmill made from un-rolled, dried raw leaves that were cultivated under cover and shaded from sunlight."
To put it simply, Matcha is made by grinding up Tencha with a tea grinding handmill, into fine particles 1 to 20 μm in size. Tencha is grown in mostly the same way as Gyokuro but covered for 5 days longer than Gyokuro. The initial steaming method is also the same as Gyokuro and Sencha, but the difference is that after steaming, it is just dried, without any kneading.
After steaming, a device called a tea leaf spreader is used to spread them over 5 to 6 m in warm air, the moisture from the steaming is removed, and then they are cooled. This process is repeated 4 to 5 times and then it is normally dried in a Tencha oven. The finished Tencha is then left to rest in a cool place until November.
Matcha produced at the beginning of November is ground using a handmill as "newly picked tea," but since it had been resting, it emits the refreshing scent of new tea, giving it a mellowness. Meanwhile, lately, newly picked tea is ground with a handmill immediately to make Matcha that retains the refreshing scent, creating a flavor that differs from that of the tea ceremony world.
Consuming the actual Matcha leaves allows you to take in all the non-water-soluble components, so it's gained attention as part of a health boom lately. In order to keep up with that demand, Matcha that strays from the original definition is mass-produced using mills.
Matcha is a drink used at places like tea ceremonies to enjoy with Japanese-style sweets. It goes without saying that this is not to be drunk with Nigiri sushi. When enjoying Nigiri sushi, you will be served Konacha, Mecha or Roasted green tea.
Related contents:
Japan Tea Central Public Interest Incorporated Association
GREEN TEA THAT PAIRS WITH SUSHI
Why are the teacups at sushi restaurants so big?!
---
We hope this information will be helpful.

Revision date: December 9, 2022