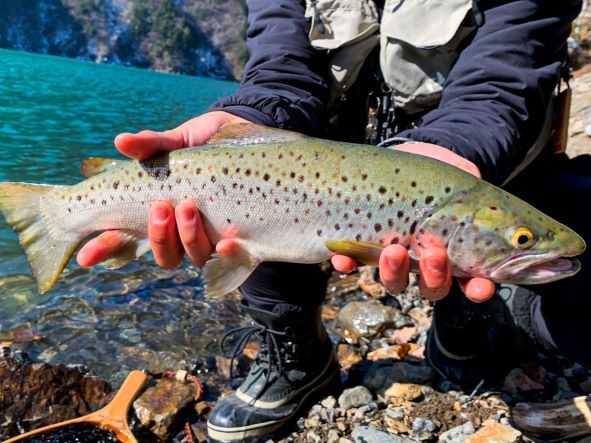 What is Brown trout?
In Europe, the word "Trout" often refers to Brown trout. It has been transplanted to many parts of the world as an angling target fish.
Since the 1860s, it has been transplanted to all parts of the world and has become established in natural waters. It appears to have been transplanted to Japan in the 1930s via the U.S. mixed with Brook trout eggs, and natural reproduction has been confirmed in Lake Chuzenji, Lake Ashi, and the upper reaches of the Katsura River.
Body shape is similar to Rainbow trout, etc. The body color is grayish blue with relatively large black spots on the dorsal surface of the body and near the base of the dorsal fin, and whitish-orange spots below the lateral line. 1-5 years in freshwater, then become smolt and descend to the sea, spending 6 months to 5 years in the ocean. The descending type is also called Seatrout. Some spend their entire lives in freshwater areas such as rivers and lakes. It reaches a maximum length of 0.7 m.
What does Brown trout sushi taste like?
Brown trout is said to have less fat and a lighter flavor than rainbow trout, and when eaten as sashimi, it should be frozen completely before eating, since it is a freshwater fish, it is possible that parasites may be hidden in it. It also has a fishy odor unique to river fish, so it is necessary to quickly remove the blood. However, we have never heard of a sushi restaurant serving brown trout nigiri. Brown trout and Rainbow trout hybrids are sold as Shinshu-salmon (信州サーモン), and their market price is over 2,000 yen per kilogram. Shinshu-salmon nigiri is commonly eaten in Nagano and other places in Japan.
In Europe, where it originated, it is a high-grade fish that is delicious to eat. It is farmed mainly in France and Austria for eating purposes. However, compared to Rainbow trout, it grows more slowly and is more difficult to farm, so there are only a few companies that provide it. Hence, it is expensive. The main way to eat trout is to cook it. Incidentally, Schubert's song "The Trout" was inspired by the brown trout.
---
We hope this information will be helpful.

Revision date: February 16, 2023
---
Share this article