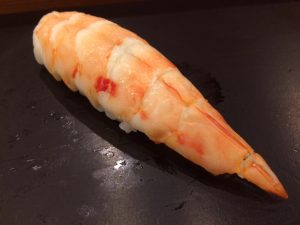 Cultured shrimp like Black tiger is imported to Japan from India, Vietnam, Indonesia, and other places and it used in a lot of nigiri sushi. The shrimp used in sushi rolls is generally the giant tiger prawn. It is used because the price is cheap and it becomes a beautiful vermilion color when boiled. Unfortunately, it doesn't have the sweet taste normally associated with shrimp.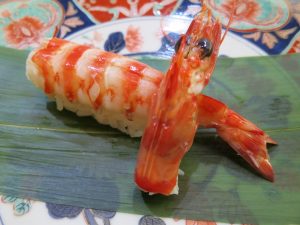 On the other hand, the Kuruma prawn (kuruma ebi) that is offered at Edo-style sushi restaurants has a rich aroma and sweetness than spreads over your tongue. It is also becoming more popular to boil it just before serving it to the customers. By doing this, the warmth enhances the sweetness of the shrimp.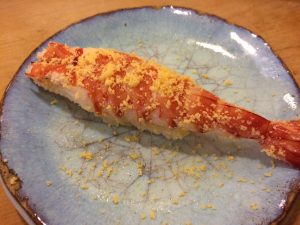 The old Edo-style sushi restaurants will also ferment the shrimp in eggs scrambled with sweet vinegar (yolk soaked in vinegar) for several days. When the Kuruma prawn is soaked in the egg, its umami is enhanced and its pleasant acidity is delicious.
By the way, when you boil the shrimp, it normally bends towards the belly. Crooked shrimp cannot be used for sushi, so a few cuts are made in the ventral to stop it from bending and it is cut along the muscles or from head to tail and skewered before boiling. You still have to be careful it doesn't bend when you peel off the shell. Therefore, even just the way a Kuruma prawn is boiled demonstrates the skill of a sushi chef.
---
We hope this information will be helpful.

Revision date: August 7, 2017
---
Share this article