One of the common ingredients of sushi rolls is imitation crab. In Japan this is called kanikama, in Europe, it's called surimi and in the US it's also called fake crab.
I'm sure everyone reading this has tried it before, but what is imitation crab made of?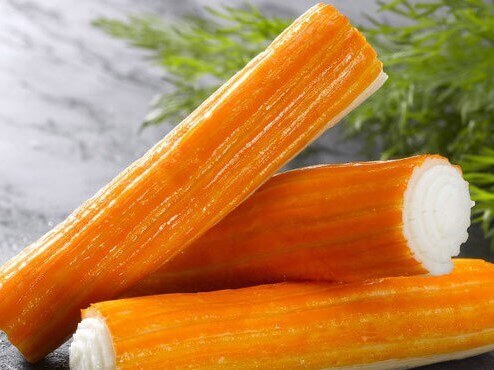 It seems kanikama was invented in Japan. In the early 1970s, Sugiyo, a fish paste manufacturer, in a failed attempt to developed artificial jellyfish, ended up with a product that had a texture exactly like crab and shifted development to that instead.
The "kani" of "kanikama" means "crab". "Kama" is an abbreviation of kamaboko, which is boiled fish paste, fish sausage, or fish cake. Its official name is "crab-like kamaboko". The main ingredient is minced fish meat mashed into a paste. One of the whitefish used in Alaska pollack. But it contains no crab. Therefore, to bring out the crab flavor, crab extract, which is a combination of ingredients extracted from crab shells and meat, salt, etc., is added. In this way, the crab-like taste can be reproduced without the use of crab meat. However, those who are allergic to crab or other crustaceans cannot eat kanikama with crab extract. Also, the red color of the crab-like appearance is made with paprika dye, etc. Incidentally, there is actual crab in the kanikama sold in the US and Europe.
It has now become a staple not only in sushi rolls, but also in sandwiches or on baguettes and even on takeout salads. It's become even more popular than it is within Japan.
Related contents:
Viciunaigroup
---
We hope this information will be helpful.

Revision date: February 8, 2023
---
Share this article