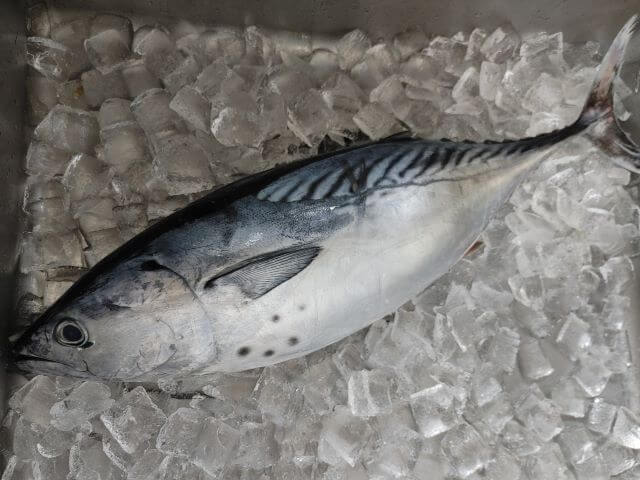 What is Black skipjack (Suma)?
Black skipjack (Suma) is a migratory fish widely distributed from temperate to tropical zones in the Indian and Pacific Oceans. In the waters around Japan, it is found mainly in southern Japan, including Kyushu, Shikoku, and Okinawa. Because it does not form large schools, it is rarely caught in large quantities at one time and therefore is not sold in large quantities in the market.
It is a member of the mackerel family, so it is written "縞鰹 (striped bonito)" in Chinese characters because of its distinctive wave-like stripes. it resembles Bonito but can be distinguished by the presence of several black dots between the ventral and pectoral fins. Adults are about 40-50 cm in length, with the larger ones reaching about 1 m in length and some individuals weighing as much as 10 kg. In Micronesia and the Hawaiian Islands, it is an important food fish. The scientific name is Euthynnus affinis (Cantor, 1849).
What does Black skipjack (Suma) sushi taste like?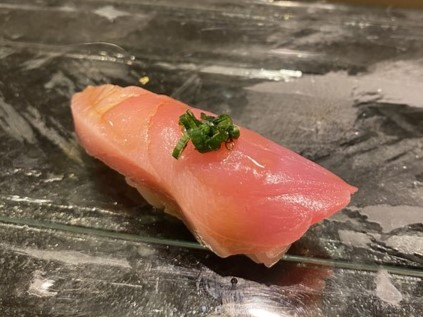 Black skipjack (Suma) is a lean fish with thin skin and not so hard bones. Chiai (dark red meat) is bigger, though not as big as bonito. The flesh is lighter red than Frigate tuna, slightly softer, and greasier. The taste is lighter than Oriental Bonito.
Black skipjack, which is fatty, tastes like toro all over. Because of its outstanding flavor, it is also attracting attention as a substitute fish for tuna. Besides, its flesh does not shrink much when heated, making it suitable for a variety of dishes. The broth made from ara (bony parts) has a strong flavor and is a sign of a delicious fish. Some sushi restaurants are already using it as a sushi topping under another name, Yaito-gatsuo.
---
We hope this information will be helpful.

Revision date: April 15, 2023
---
Share this article