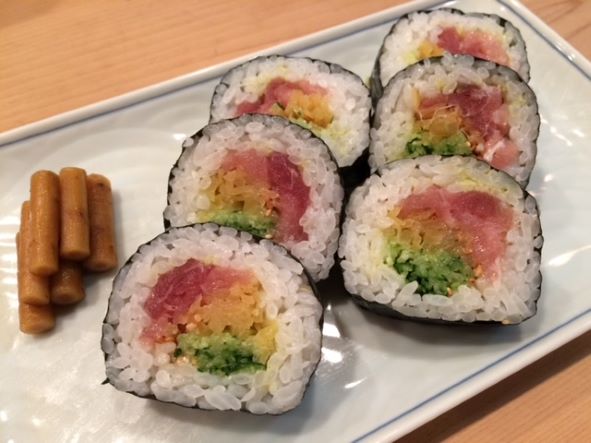 Sushi made by spreading vinegared rice on a sheet of dried laver and rolling it up with ingredients is called "Makizushi" in Kansai and "Norimaki" in Kanto, and the two are basically the same.
In Kanto, sushi rolls are distinguished by their thickness as "Hosomaki (thin rolls)," "Nakamaki (medium rolls)," or "Futomaki (thick rolls)," but in Kansai, the term "Makizushi" often refers to "thick rolls.
Hosomaki, such as Kanpyomaki (Dried Gourd Shavings Sushi Roll), Tekkomaki (Tuna roll), and Kappamaki (Cucumber roll), generally contain only one type of ingredient, while Futomaki (太巻き) contains multiple ingredients such as kanpyo, tamagoyaki, shiitake mushrooms, and cucumbers.
The size of the nori used differs depending on the thickness of the roll. Hosomaki uses a sheet of nori cut in half, Nakamaki uses one half to one sheet of nori, and Futomaki uses one or more sheets of nori. The basic size of nori is 21 cm in length and 19 cm in width per sheet, and each sheet weighs about 3 g. This size is called "Zenkei".
The filling and hearty Futomaki satisfies your appetite. It has a slight sweetness, intricate flavors, and pleasant textures. Everything appealing about sushi is packed into a roll of Futomaki.
---
We hope this information will be helpful.

Revision date: January 16, 2023
---
Share this article