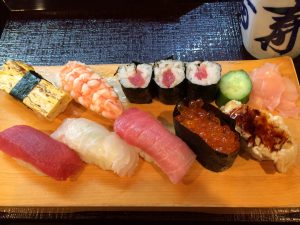 Even if you order beer or sake at sushi restaurants, your meal will always end with a cup of tea. But if you're going to go out for sushi, you should really start drinking that tea earlier instead of saving it until the end. The tea at sushi shops is far more significant than a simple beverage. Especially when eating fatty tuna or bonito, tea plays a role that beer and sake simply cannot fulfill.
The key is in its hot temperature.
Hot tea works to dissolve the fat left on the tongue. Traces of fat is left on your tongue when you eat fatty sushi. It covers the taste buds like a film, subtly inhibiting your sense of taste. It would be a shame to miss your chance to experience the full range of flavors on your visit to a delicious sushi restaurant. No matter how much you drink, beer and sake can't do anything about this thin film.
But drinking hot tea dissolves the fat and washes it away. Tea can also be considered a type of preparation for enjoying the next piece of sushi.
Another fun fact, sushi teacups are bigger than traditional tea cups because sushi chefs used to man their food stands alone. They just didn't have enough hands to be constantly refilling tea while also pressing the sushi. The stands used large teacups so they wouldn't need to be refilled as often.
Related contents:
GREEN TEA THAT PAIRS WITH SUSHI
---
We hope this information will be helpful.

Revision date: September 8, 2022
---
Share this article