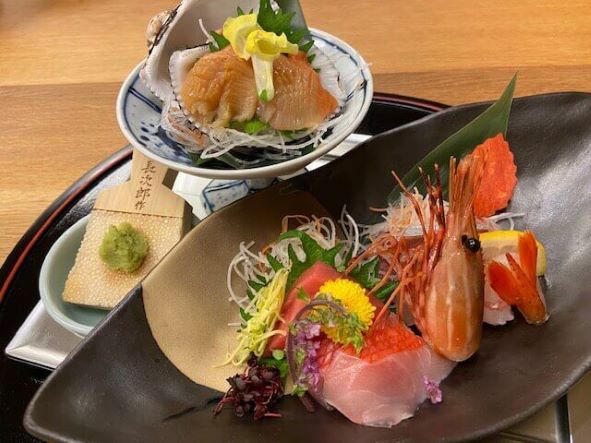 Sashimi (刺身) is made by removing the inedible head, bones, skin, fins, and tail from raw fish, etc., and cutting them into small, easy-to-eat pieces.
It is considered the ultimate washoku dish, but why is such a simple and uncooked dish regarded so highly? In Japan, ingredients that are fresh enough to eat raw are considered more valuable, and sashimi preparation in particular requires substantial labor and technique.
Its preparation begins when the fish is first taken out of the sea. The fishermen perform Ikejime, a technique that shuts off the fish's neurotransmission in order to preserve freshness and texture while the fish matures.
Each fish has its peak, which is referred to as shun (season), and chefs train for years to develop their ability to determine whether a fish is fresh and its peak. The carefully selected fish is cut into smaller pieces in one stroke with a sashimi boucho (knife), which creates a smooth surface. If the meat is cut with an unsharp knife, it will be crushed and the result will be watery and tasteless.
The chefs pursue pleasing texture, ease of eating, and delicious flavors by varying the thickness of cuts and cutting techniques, depending on the type of seafood they work with.
It is popularly served with soy sauce and condiments such as wasabi, and such garnishes as shiso and shredded daikon radish.
As an aside, sushi restaurants offer a variety of sashimi cuisine. You can order them as assortments, not to mention as single dishes of tuna, sea bream, squid, horse mackerel, or shellfish among others. If the shop has seasonal fish in stock, it might be a good idea to leave your order to the chef.
---
We hope this information will be helpful.

Revision date: February 3, 2023
---
Share this article