Once a bluefin tuna is caught, it arrives in Tsukiji fish market within a day or two. However, that fish is not used as a sushi topping that day. No mater how good the tuna is, it starts out very stiff and is not in a state where it should be eaten. The meat is hard and the white muscle lines are left in your mouth. The odor and acidic taste of the red meat is strong and the unique sweetness of the fish is nowhere to be found. After it has rested the muscles soften, bringing out the fat.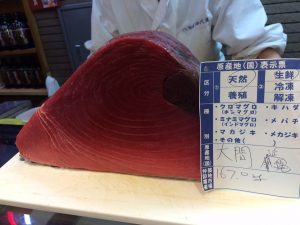 Then, when the sushi chef gets the tuna, he first separates the red, lean meat and the fatty toro portion, rewraps them separately and, seals them in plastic and puts them on ice. Next is waiting for the "young" meat, not yet suitable for eating, to mature. The number of days the fish will be rested depends on the size of the fish and the temperature. The smaller the cut and the warmer the temperature, the shorter the rest time. Generally the time is from 3-14 days.
This "young" fish not ready for consumption is a fresh, deep color but as it matures the color darkens, the fat is brought out and becomes a fleshy color. Proper care must be taken because if it's rested for too long, the color changes too quickly.
Related contents: TYPES OF TUNA
---
We hope this information will be helpful.

Revision date: August 13, 2018
---
Share this article