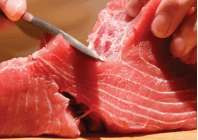 There is a part on the tuna belly called "Sunazuri (gizzards)" or "Zuri" . Normally "Jabara," with the diagonal white lines is the king of tuna, but the fatty tuna is spoiled if the white lines are left in your mouth.  Also, on the dorsal side there is a part that produces chutoro called wakaremi.  This part is also complex with hard, white lines throughout that we want to avoid eating. Instead, the knife cuts along those lines, gently removing the fish meat from them, making "Hagashi." If the chef is not skilled, this cut will take time and extra meat is left behind. This is delicate work, making for a delicious and satisfying experience.
Related contents: TYPES OF TUNA
Sushi-interpreting service "sushiuniversity"
---
We hope this information will be helpful.

Revision date: July 16, 2020
---
Share this article