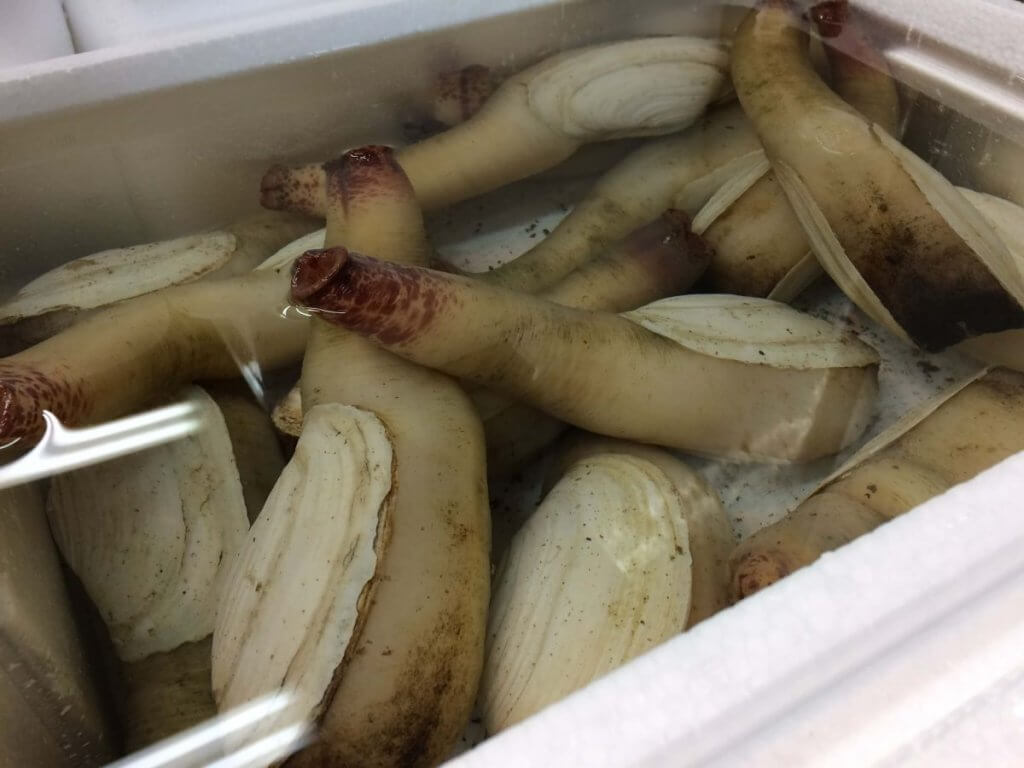 The official name of Mirugai is "Mirukui". The part of the Mirugai that is used as a sushi topping is the siphon that bulges out from the shell. The siphon is separated from the shell and then this is cut through longways, from top to bottom. One Mirugai can only produce four pieces of sushi. It is also nearly extinct from overfishing. While it can still be caught in the Seto Inland Sea and Mikawa Bay, there are fishing limits, which means it is an ultra-high-priced sushi topping.
However, most conveyor belt sushi restaurants offer Mirugai at reasonable prices. The topping on these is quite white. In conclusion, this shellfish is actually Shiromiru (also known as Namigai or Japanese geoduck) and is mainly found in Aichi and Chiba. As the name suggests, the siphon is larger than Mirugai and whiter ("shiro" means "white" in Japanese). There is a certain flavor that is peculiar to shellfish that live in sandy terrain, which some people like and some people hate. However, at less than half the price of Mirugai, it makes a decent substitute.
Unfortunately, the number of Shiromiru is also declining. Now, in order to fulfill demand, Pacific geoduck is being imported from places like Canada and the U.S. and is also called Shiromiru at the Toyosu Market.
---
We hope this information will be helpful.

Revision date: July 8, 2021
---
Share this article