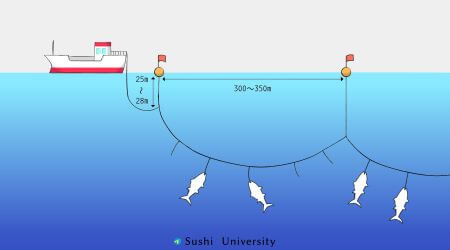 Tuna fishing methods include Purse seine fishing, Fixed-net fishing, Drift-net fishing and Longline fishing, among others. Ocean fishing for tuna in the South Pacific Ocean, Indian Ocean and Atlantic Ocean, is often done by longline fishing. A main line can exceed 150 km in length and have over 3,000 hooks hanging from it. A main line is let out for 6 to 7 hours, and it takes 3 to 4 hours from running the line in the sea, to catching tuna. After that it takes another 10 to 15 hours to reel it up, so the tuna that was caught early may have already died during this time. There are times when sea water may feel warm to the touch, even in the dead of winter. The problem here is, that the body of the tuna that died early, will be warmer if the sea water is warmer. The body temperature will also be unusually high if a tuna caught by a hook ends up struggles for a long time and dying before being reeled in. The same is true for Kuromaguro caught in game fishing.
When this tuna is cut into pieces, the meat is whitish, as if grilled in a fire, so it is called "Yake (焼け)" or "Yake-maguro (焼け鮪)" as "Yake" means "burnt" in this case. The meat can also be a grayish-brown. In the industry it's known as "White tuna" due to its color. It loses its characteristic red color, the texture of the meat when eating it is flakey and it doesn't taste good.
Even if the fish body is cooled with ice water after catching, once the meat has been "burnt", it won't turn back to red. This renders even the premium Pacific bluefin tuna and southern bluefin tuna worthless, with zero commercial value as food. However, the fishermen don't just toss the dead fish back into the sea without a second thought. This is mostly processed into pet food. Also, since it can't be determined externally whether the meat is "burnt" or not, no one can tell until the fish has been cut open. It runs a big risk to the broker and can be a cause of its fishing port brand losing credibility.
It is currently believed that burnt tuna occurs from high temperature and low pH in the muscles of the fish after death, and that there is a complicated, indirect causal relationship between the conditions such as the environmental temperature, fishing method, handling of the catch, length of processing time, type of fish and size of fish. However, the mechanism that causes this phenomenon is not clearly understood.
Related contents: TYPES OF TUNA
---
We hope this information will be helpful.

Revision date: March 1, 2022
---
Share this article