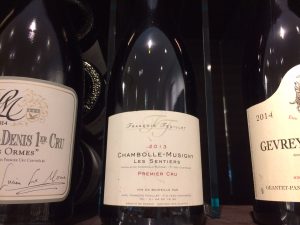 Fermented beverages such as sake and wine pair well with sushi. Sake is made from rice. So it only makes sense that this would pair well with sushi – also made with rice. It is also the only alcohol that eliminates the smell of fish and shellfish.
On the other hand, when considering compatibility with wine, toppings that use strong seasonings like Nikiri, including tuna and conger eel with sweet filling, match superbly with matured red wines such as Pinot Noir.
For example, Bourgogne Chambolle Musigny, Cote de Beaune, Morey-Saint-Denis, etc.
White wines such as a lighter Chardonnay, Sauvignon Blanc and Riesling go well with white fish flavored with Citrus sudachi and yuzu or squid eaten with salt.
For example, Bourgogne Chablis.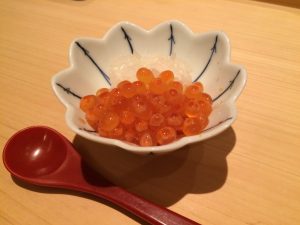 However, neither red nor white wine goes well with herring or salmon roe. The iron specific to wine is said to contribute to the fishy smell of fish roe.
In the research of one wine manufacturer, the factor that generates the smell of fish and shellfish is the iron (ferrous ion) found in wine. Wines with relatively low levels of iron such as Sherry (Spain), Champagne (France) fermented twice in the bottle, Cava (Spain) and Franciacorta (Italy) mature without adding sulfite, which prevents oxidization. This reduces the ferrous ion in the wine and the fishy smell is virtually unnoticeable.
Either way, the research of wine and sushi pairings is still insufficient and there haven't yet been any reports of unexpected compatibility. If anyone out there has found a wine that does pair well with herring or salmon roe, please be sure to share that information with us.
Related contents: See Best Wine For Sushi?
---
We hope this information will be helpful.

Revision date: January 17, 2018
---
Share this article