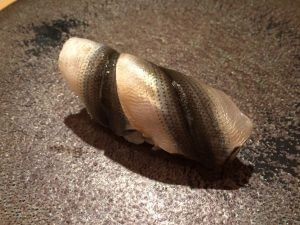 According to most sushi masters, salt is the defining factor in the taste of gizzard shad (kohada).
Before seasoning gizzard shad with vinegar, the process starts with salting the spread open shad. It is the length the fish is salted that makes or breaks the fish. The reason for salting the gizzard shad is not just for flavoring, but also to draw out the umami of the fish. Salting for too long results in a briny taste; too short and the umami won't come to the fore. The timing must be perfect in order to achieve that emotional "umami" moment.
This timing can be compared to boiling eggs: 3 minutes gets you soft-boiled eggs but five minutes gets you hard-boiled eggs. With eggs you can follow this rule of thumb, but no such rule exists for the spotted shad. The conditions for the salting time differ depending on the temperature, humidity, size of the fish and the degree of fat.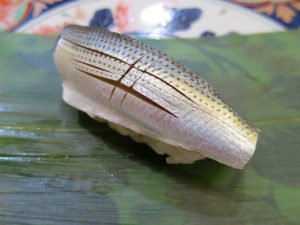 For example, a more slender fish in the middle of summer may be salted for 30 minutes, but a fatty fish in the winter needs to be salted for four hours. Just a few minutes longer or shorter than the perfect salting time completely changes the taste of the final dish.
Skilled chefs adjust the time on a daily basis according to the weather and the quality of the fish. Shops that can provide precisely the same spotted shad taste every day of the year are truly the best of the best.
Related contents:
TYPES OF EDO-STYLE PREPARATIONS
---
We hope this information will be helpful.

Revision date: May 29, 2017
---
Share this article