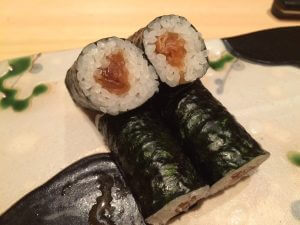 This refers to Norimaki, originating from Kanpyo maki. Now the core of Norimaki may be made from a number of different ingredients, but the most important part of Norimaki is not the ingredients inside, but the Nori (seaweed). There is a tendency for foreigners to dislike black-colored food, but Nori has a fresh sea scent, and a high amino acid and umami content, so it's worth a second look.
The Nori used in Norimaki and Gunkan-maki is essential to Edomae sushi. The Nori used in sushi absolutely must have good fragrance and crispiness, melt in your mouth and have the right coloring. The combination of selecting the quality and source site of Nori and using different Nori according to the sushi topping is one of the things sushi chefs are particular about. During the Edo era, the sea near the area that is now Omori in Tokyo was the largest production site of Nori. However, with the reclaiming of Tokyo Bay, Nori can no longer be caught in Omori. Now, places like the Ariake Sea, Seto Inland Sea and Tokyo Bay are famous for producing high-quality Nori.
*Japanese terms will be italicized on sushi ingredients page.
<Norimaki-Seaweed roll>
Anakyu maki-Gizzard shad and Cucumber roll
Himokyu maki-Mantle of ark shell and Cucumber roll
kanpyo maki-Sweet-simmered kanpyo (dried gourd strip) roll
Kappa maki-Cucumber roll
Kohada maki-Gizzard shad roll
Namida maki-Vinegared rice and thin strips of Wasabi rolled in seaweed
Negitoro maki-Green onion and toro roll
Shinko maki-Pickled radish and shiso plant roll
Takuwan maki-Pickled radish roll
Tekka maki-Norimaki sushi roll with red tuna and grated wasabi at the core
Torotaku maki-Toro and Pickled radish roll
Umeshiso maki-Pickled ume and shiso plant roll
---
We hope this information will be helpful.

Revision date: October 15, 2020
---
Share this article