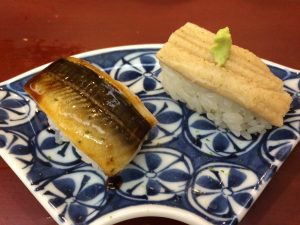 There are only high rank toppings such as rich tasting sea urchin (Uni), salmon roe (Ikura) and herring roe (Kazunoko). All different from other sushi toppings when it comes to a texture and flavor. A lot of them have become widespread ever since the technique of gunkan style sushi was established after the war. There are also sushi toppings made from other than fish and shellfish.
*Japanese terms will be italicized on sushi ingredients page.
<Others>
Akauni-Red sea urchin
Anago-Japanese conger
Bafununi-Short-spined sea uruchin (Green sea urchin)
Caviar-Beluga roe
Ezobafununi-Short-spined sea urchin
Fukahire-Estuary shark
Ginanago-Conger eel
Hamo-Daggertooth pike conger (Muraenesox cinereus (Forsskål, 1775))
Hoya-Sea squirt (Halocynthia roretzi (Drasche, 1884))
Ikura-Salmon roe
Karafutoshishamo-Capellin roe
Kazunoko-Herring roe
Kitamurasakiuni-Northern sea urchin
Komai-no-ko-Saffron cod roe
Komochikonbu-Herring spawn on kelp
Kuroanago-Beach conger
Madachi-Pacific cod milt
Madarako-Pollack roe
Menegi-Young Green Onion Shoots
Murasakiuni-Purple sea urchin
Muruanago (Anguilla)- Punctuated snake-eel (Ophichthus remiger (Valenciennes, 1837))
Namako-Sea cucumber
Niseginanago-(Gnathophis nystromi (Asano))
Noresore-Young Japanese conger, etc.
Oboro-Flavored ground prawns and white fish
Okianago-Bigmouth conger
Ranpufisshu-Lumpfish (Cyclopterus lumpus)
Shiitake-Shiitake mushroom
Shirako-Globefish testis
Shirahigeuni-White spin sea urchin
Sirauo-Icefish (Salangichthys microdon (Bleeker, 1860))
Tako-no-ko-Chestnut octopus roe or North pacific giant octopus roe
Tamago-Egg omelet
Tarako-Cod roe
Tobiko-flying fish roe
Unagi-Japanese eel, freshwater eel (Anguilla japonica Temminck & Schlegel, 1846)
---
We hope this information will be helpful.

Revision date: January 21, 2023
---
Share this article