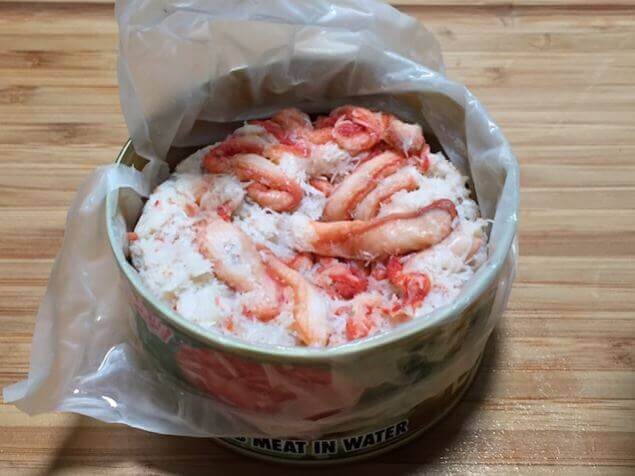 Crab protein has a high sulfur content. This sulfur can bind with the iron in the can, resulting in ferric sulfide that causes black spots in the meat. Black discoloration of the crab meat significantly mars the appearance and reduces the product value. In order to prevent this, parchment paper with superior water resistance and oil resistance is used to keep the crab meat from coming in contact with the can.
Meanwhile, the trace amounts of magnesium, ammonium and phosphoric acid contained in crab and fish meat sometimes bind to create magnesium ammonium phosphate glassy crystals. This chemical phenomenon is called struvite.
These crystals have no taste or odor and dissolve easily in the stomach so they are not considered to be an issue under the Food Sanitation Act. However, large crystals may hurt the oral cavity so efforts are made to improve production methods to prevent generation of crystals and keep any crystals that do form as small as possible. However, parchment paper does not reduce the struvite phenomenon.
In summary, do you now understand the truth of why crab meat is wrapped in white paper? Of course, nowadays the surfaces of cans are processed in a way that the iron doesn't start to dissolve, so perhaps the correct theory is that the parchment continues to be used to give a sense of luxury.
---
We hope this information will be helpful.

Revision date: August 1 2022