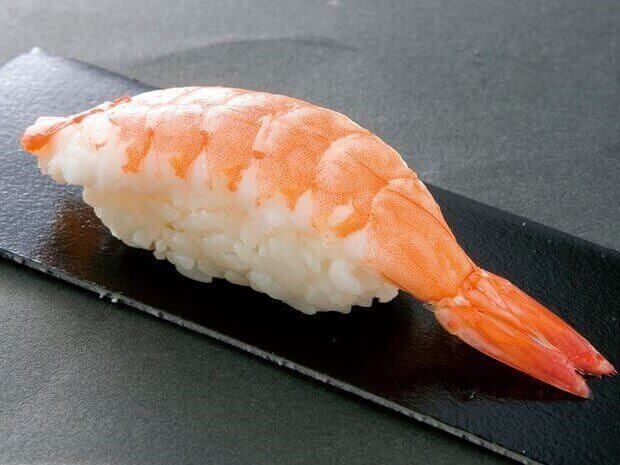 Japan leads the world in shrimp consumption by far. Most of the shrimp is imported, but it is a little known fact that shrimp is called "Meki" among importers and sushi restaurants in Japan. It is said to be a remnant from a time when much of the imported shrimp came from Mexico (pronounced "Mekishiko" in Japanese).
Shrimp can be caught within 45 degrees north or south of the equator. The caught shrimp is quick-frozen on site and then sent to Japan. Mexico was early in advanced refrigeration technology so when it became impossible to catch shrimp in the seas around Japan in the 1970s, a large volume of shrimp was already being imported from Mexico. It was around that time that importers shortened the phrase "Shrimp imported from Mexico" to "Meki".
After that the major source of shrimp imports switched to Taiwan, which started shrimp aquaculture, and it is now also imported from Thailand, Indonesia and China. The name "Meki" stuck in the industry, despite the fact that shrimp is now mainly imported from other places in Asia.
Imported shrimp is categorized by body color tones, either brown, pink or white. The color is combined with the place of origin or country name and that is what each type of fish is called at the distribution stage. For example, they may be called Mexico brown or Guiana pink.
Well-known brown-toned shrimp include Ushi ebi (Black tiger shrimp) and Mexico brown (Yellowleg shrimp). Pink-toned types include Guiana pink (Pink spotted shrimp) and Nigeria pink ebi (Southern pink shrimp). White-toned shrimp include Taisho ebi (Fleshly prawn),  Banana ebi (Banana Prawn) , Eedeavour ebi (Eedeavour prawn) and Vannamei ebi (Whiteleg shrimp). There are many sushi restaurants that use pink and brown-toned sushi that turn into a nice red color when boiled. While the meat of white-toned shrimp is soft, it turns a whitish color when boiled and doesn't look very appetizing. However, due to the splendid, large tail, it is perfect for tempura or fried prawns.
Next, We will touch on the characteristics of shrimp that is typically imported to Japan. All these types are actually related to the Kuruma prawn, which is representative of premium shrimp and a familiar ingredient of sushi. In other words, these imports are alternatives to make up for the shrimp consumption in Japan that can't be covered by the Kuruma prawn. Normally the head is removed, it is frozen, packed in large lots, and then embarks on the distribution channel in Japan.
Guiana pink (Redspotted shrimp, Spotted pink shrimp /Farfantepenaeus brasiliensis)
For more information, go here.
Taisho ebi (Fleshly prawn /Fenneropenaeus chinensis)
It is found from the Indian Ocean to the Pacific Ocean, the Malay Archipelago and Australia.  The species is of considerable commercial importance in the Yellow Sea, East China Sea and Korean Bight, where it is trawled. It is sold in Korea, China, Japan and Hong Kong. This is a large shrimp that reaches up to 25 cm in body length. The appearance is similar to the Kuruma ebi, but without any special pattern. The edge of the abdomen is a dark brown color. There are 28 known species related to the Kuruma ebi. In the Toyosu market, those with a striped pattern are Kuruma ebi, and those without are Taisho ebi. In Japanese it's been dubbed "Korai ebi" is due to the fact that it is often caught in the waters off the west coast of the Korean peninsula. The soft meat has a sweetness that makes this shrimp delicious. The number of wild Taisho ebi has decreased drastically in recent years. The coloring is lighter than Kuruma prawn and Black tiger shrimp, but darker than other white-toned shrimp. This type has a long history compared to other imported frozen shrimp and such high volumes were imported from China that it was called Chinese Taisho. It accounted for the majority of the market share until farmed Black tiger shrimp started to appear on the market.
Banana ebi (Banana Prawn /Penaeus merguiensis)
It found around the northern coast of Australia from the New South Wales-Queensland border to Shark Bay in Western Australia, it is mainly caught by trawlers between Exemouth Gulf, Western Australia and Brisbane, with the bulk of the catch coming from the Gulf of Carpentaria. It weighs between 18 to 30 g per shrimp and is colored like a banana. The meat is soft and has a sweetness. Sometimes it is also sold as Taisho ebi. The body is thinner and slenderer than the Black tiger shrimp. It is available year round with peak supply in April.
Mexico brown (Yellowleg shrimp, Brown shrimp /Farfantepenaeus californiensis)
For more information, go here.
Vannamei ebi (Whiteleg shrimp, Pacific white shrimp/ Litopenaeus vannamei)
For more information, go here.
Ushi ebi (Black tiger shrimp, Giant tiger prawn/ Penaeus monodon)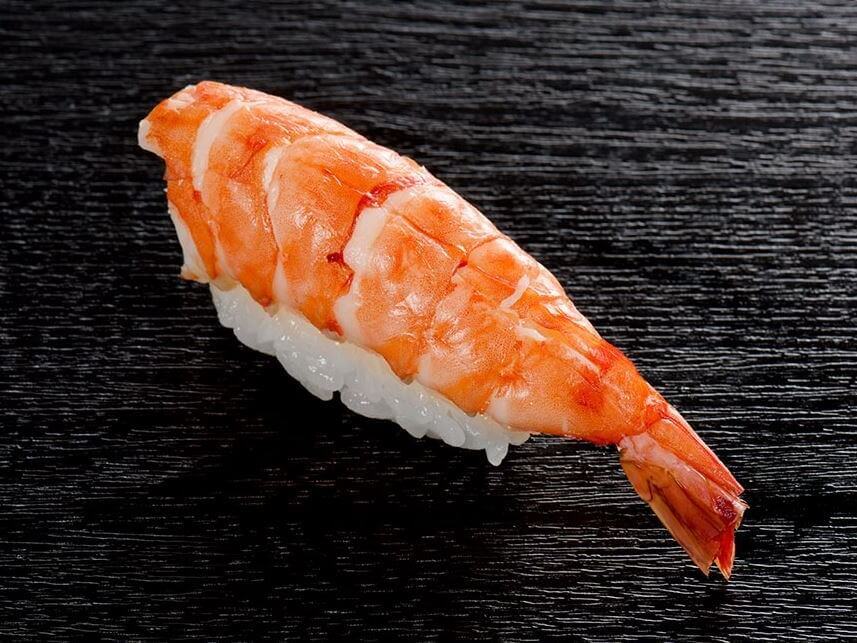 For more information, go here.
Australia tiger(Brown tiger prawn /Penaeus esculentus)
This is a reddish-brown colored shrimp with a striped pattern from Australia. It is often imported with the head intact. The meat has a sweetness and the soft coloring is also nice. It is used as an alternat to Kuruma prawn. Most are caught in the wild, especially in Australia's Gulf of Carpentaria.
Australia ebi(Endeavour prawn/Metapenaeus endeavouri)
It is available wild-caught, they are bottom-dwelling marine prawns, found from southern New South Wales, around the northern coast of Australia to Shark Bay, Western Australia. It is commonly 22-30g and 7-14cm in body length. It mainly caught from March to November.
Nigeria pink ebi (Southern pink shrimp, Candied shrimp/Farfantepenaeus notialis)
It occurs at depths from 3 to 700 m, common at depths from 10 to 75 m, inhabits bottom mud or sandy mud, and sandy patches among rocks in marine environment. Juveniles are found in estuarine environment. Also inhabits lagoons. It is often used for sushi because of the soft meat, good flavor and nice coloring. This is one of the highest grades of imported shrimp.
Mexico ebi (Northern brown shrimp, Brown shrimp /Farfantepenaeus aztecus)
Maximum standard length: 22 cm. It lives in bottom mud or peat, often with sand, clay or broken shells. Adults inhabit in marine environment. Juveniles inhabit in estuarine and marine environment. There are 13 types of brown-toned Kuruma prawn in the world and the names get confusing.
King ebi (Eastern king prawn /Penaeus plebejus)
Adults are found in marine environment while juveniles are found in estuarine environments. It is found over sandy bottoms at depths of 2-350 m or deeper.
Finally, the shrimp introduced in this section is consumed not only in Japan, but all over the world. Judging by the images on social media, takeout sushi and the frozen shrimp sold at Costco are made from one of the types of shrimp described here. If you're going to learn about sushi, it's important to learn the types of shrimp used in sushi.
---
We hope this information will be helpful.

Revision date: January 23, 2023
---
Share this article