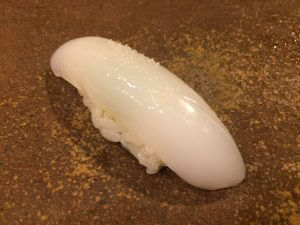 You don't want to find yourself in a Sushi restaurant not knowing enough about the fish on offer. Here we will introduce all the different types of Edo-style Sushi (Edomaesushi) Ingredients. *Japanese terms will be italicized on sushi ingredients page.
<Ika/Tako-Squid/ Octopus>
Aori ika-Bigfin reef squid
Hotaru ika-Firefly squid
Iidako-Ocellated octopus
Kensaki ika (Shiroika)-Swordtip squid
Mizudako-North-pacific giant octpus
Shin ika-Baby cuttlefish
Sumi ika (Kouika)-Cuttlefish
Surume ika-Japanese common squid
Tako (Madako)-Octopus
Yari ika-Spear squid
We hope this information will be helpful.

Revision date: December 2, 2016