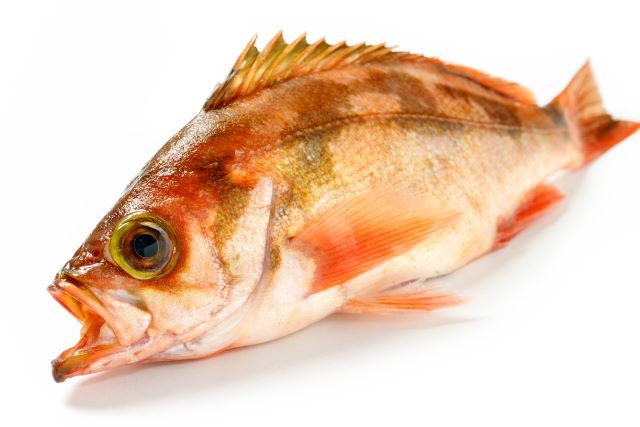 What is Rockfish (Mebaru)?
Rockfish (Mebaru) are distributed over a relatively wide area from southern Hokkaido to Kyushu, the Korean Peninsula, and elsewhere. They inhabit rocky reefs at depths of 50 to 150 meters. The length of the fish is 20-25 cm.
There are several species of rockfish (Mebaru): Aka-mebaru (Sebastes inermis Cuvier,1829), Kuro-mebaru (Sebastes ventricosus Temminck and Schlegel,1843), and Shiro-mebaru (Sebastes cheni Barsukov,1988), which are generally called mebaru. However, the three species are so similar in appearance that it is difficult to distinguish them at a glance.
The fish is caught by pole-and-line and longline fishing starting around March, and becomes fat and oily by April when the water temperature begins to rise. Anglers are most likely to catch Kuro-mebaru. They are mainly eaten simmered or grilled.
However, the fish is poisonous in its dorsal fin, so it is important to be very careful when handling it. Because it is a very small amount of poison, it is a cause that is neglected, but there are times when serious symptoms appear.
What does Goldeye rockfish (Usumebaru) sushi taste like?
Sushi chefs use a species called Goldeye rockfish (Usumebaru), which is found in deeper waters offshore. The maximum length of the fish is 35 cm. The main production areas are Aomori and Yamagata prefectures.
Goldeye rockfish is a member of the scorpionfish family, but it is less fishy than scorpionfish and has a very light flavor with firm flesh. It has little fat and a light aftertaste, making it a good pairing with sushi rice. When served as nigiri sushi, it is also good to use Kobujime. Although the market availability is stable, it is traded at a high price.
---
We hope this information will be helpful.

Revision date: May 26, 2023
---
Share this article