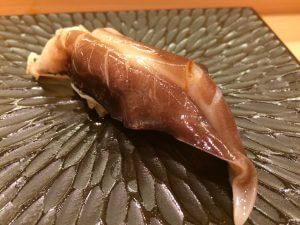 Shellfish has been a traditional sushi topping started off with the origin of Edomae sushi. Its distinctive texture is fascinating, but the thing is, all kinds are expensive. As a sushi topping, it is placed between rich and light in flavor, and functions as a palate refresher.
The texture, flavor and fragrance differ greatly depending on the type and most people either love or hate Shellfish toppings.
A characteristic of the taste of shellfish is that it is both refreshing and rich. This is presumably due to succinic acid. It is known that if succinic acid is removed from the shellfish extract component, the umami of shellfish also disappears. However, the umami of shellfish is not due to succinic acid alone, but to the synergistic effects of amino acids such as glutamic acid, glycine, alanine, arginine, and betaine, which are present in the extract, and adenylic acid, a nucleic acid-related substance.
Kai is another topping type that has been eaten as Nigiri sushi since it was invented. Hamaguri is essentially a type of shellfish, but when in the Nigiri sushi world, it is generally lightly seared and then marinated in broth, so it is classified as Nimono.
*Japanese terms will be italicized on sushi ingredients page.
<Kai-Shell>
Agemakigai- Chinese razor clam
Akaawabi- Blacklip abalone
Akagai-Ark shell, Bloody clam (Anadara broughtonii (Schrenck, 1867))
Akaneawabi- Red abalone
Akanishi (Akanishigai)- Top shell, Rock shell, Rapa whelk (Rapana venosa (Valenciennes,1846))
Aoyagi (Bakagai)-Rediated trough-shell (Surf-clam)
Aniwabai
Asari - Japanese clam, Baby clam, Manila clam, Japanese littleneck clam (Ruditapes philippinarum (Adams and Reeve,1850))
Atsuezobora- Whelk
Awabi (Kuroawabi)-Japanese abalone
Awabimodoki (Rokogai)- Chilean abalone
Azumanishiki- Scallop
Baigai-Japanese ivory-shell
Chousenbora-whelk (Neptunea arthritica cumingii (Bernardi, 1857))
Echubai (Shirobai)-Finely-striated buccinm (Buccinum striatissimum Sowerby,1899)
Ezoawabi-Ezo-abalone (Haliotis discus subsp. hannai Ino, 1953)
Ezobora (Matsubu)-Wheck (Ezo neptune)
Himeshakogai-Boring clam
Hioogi (Hiougigai)-Noble scallop (Mimachlamys nobilis (Reeve,1852))
Hokkigai-Sakhalin surf clam, Hen-clam (Pseudocardium sachalinense (Schrenck,1862))
Hotate-Common scallop, Giant ezo-scallop, Frill, Fan-shell (Mizuhopecten yessoensis (Jay, 1857))
Ishigakigai-Bering Sea cockle
Itayagai-Japanese scailop, Frill
Iwagaki-Rock-oyster
Kaki (Magaki)-Oyster
Kagabai (Shirobai)-(Buccinum bayani Jousseaume,1883)
Kobashira-The adductor of bakagai shellfish (Rediated trough-shell)
Konakanishi-(Fusinus ferrugineus Kuroda & Habe,1961)
Kumasarubougai
Kuriiroezobora-Whelk
Kuroawabi-Japanese abalone (Haliotis discus subsp. discus)
Madakaawabi-Giant abalone (Haliotis madaka (Habe, 1977))
Megaiawabi-Disk abalone
Mirugai (Honmirugai)-Otter-shell, Keen's gaper (Tresus keenae (Kuroda & Habe, 1950))
Nabaubagai-Surf clam
Namigai (shiromiru)-Japanese geoduck
Nihama (Hamaguri)-Common orient clam, Japanese hard clam, White clam (Meretrix lusoria (Röding, 1798))
Nakanishi-(Fusinus perplexus (A.Adams,1864))
Ooechubai (Shirobai)-(Buccinum tenuissimum Kuroda in Teramachi,1933)
Oomategai-Giant jacknife clam, Giant razor-shell
Oomizogai-Alaska razor, Dall's razor clam
Onisazae
Osagawabai
Rokogai (Awabimodoki)-Chilean abalone, Baranacle rock-shell (Concholepas concholepas (Bruguie, 1789))
Sarubougai-Half-crenated ark, Bloody clam
Satougai-Bloody clam
Sazae-Turban shell, Spiny top-shell (Turbo (Batillus) sazae H.Fukuda, 2017)
Shirogai (Manjugai, Saragai)-Northern great tellin
Tairagi (Tairagai)-Pen-shell (Fan-shell)
Tokobushi-Tokobushi abalone (Haliotis diversicolor Reeve, 1846)
Torigai-Egg-cockle, Heart-shell (Fulvia (Fulvia) mutica (Reeve, 1844))
Tubugai (Matsubu)-Ezo-neptune, Whelk, Winckle (Neptunea polycostata Scarlato,1952)
Usuhirawabi-Greenlip abalone
Yakougai-Great green turban
---
We hope this information will be helpful.

Revision date: May 19, 2023
---
Share this article