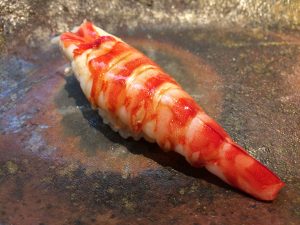 Crustaceans like shrimp and crab are sushi toppings overflowing with their distinctive sweetness.
Except for Kuruma ebi, Ebi and Kani (shrimp and crab) were introduced as sushi toppings after WWII. The sweetness of shrimp is stronger when eaten raw. There is still a sweetness remaining in boiled shrimp, but it's weaker. Instead, the umami gets stronger and the texture is also completely different than when served raw. When boiled the fiber is more apparent and it can be bitten clear through. Kuruma ebi is one of the traditional sushi toppings of the Edo period.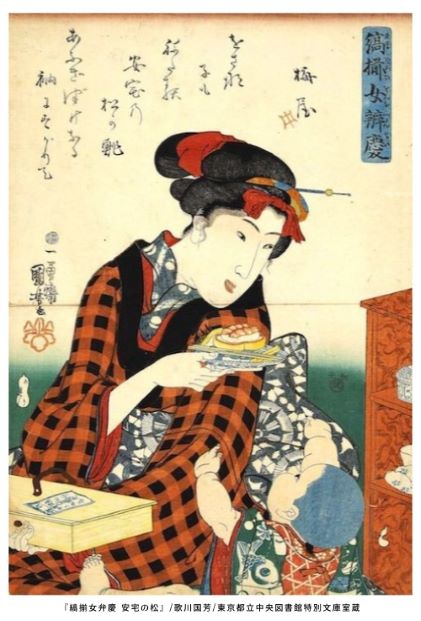 Crab wasn't originally an Edomae sushi topping. However, there is a special sweetness that oozes from the gaps in the fibrous body.
*Japanese terms will be italicized on sushi ingredients page.
<Ebi/Kani-Prawn/Crab>
Aburagani-Blue king crab (Paralithodes platypus (Brandi,1850))
Aka ebi-Argentine Red Shrimp
Ama ebi-Deepwater prawn (Deepwater shrimp, Pink prawn)
Benizuwaigani-Red snow crab, Red tanner crab
Black tiger (Ushi ebi)-Black tiger
Botan ebi-Botan shrimp (Pink prawn, Pink shrimp)
Botan ebi-Spot prawn
Budou ebi-Grape shrimp
Gasa ebi-Argis lar
Gazami (Watarigani)-Blue swimming crab (Portunus (Portunus) trituberculatus (Miers.1876))
Hanasakigani-Hanasaki crab (Paralithodes brevipes (H. Milne-Edwards & Lucas, 1841))
Hime ama ebi- (Plesionika semilaevis Bate,1888)
Ibaramo ebi (Oni ebi)-Spiny Lebbeid
Ise ebi-Japanese spiny lobster
Jinken ebi-Golden shrimp
Kegani-Horsehair crab (Korean crab, Kegani crab)
Kuma ebi (Ashiaka ebi)
Kuruma ebi-Kuruma prawn (Gadus macrocephalus Tilesius, 1810)
Sakura ebi-Sakura shrimp
Shako-Squilla (Mantis shrimp, Edible mantis shrimp)
Shiba ebi-Shiba shrimp (Metapenaeus joyneri (Miers.1880))
Shima ebi-Morotoge shrimp
Shiro ebi (Shira ebi)-Japanese glass shrimp
Tarabagani-King crab (Alaska king crab, Red king crab)
Toyama ebi (Botan ebi)-Hamupback shrimp
Uchidazarigani-Signal crayfish (Pacifastacus trowbridgii (Stimpson,1857))
Uchiwa ebi-Sand crayfish, Flathead lobster, Balmain bug, Slipper lobster
Zuwaigani-Snow crab (Queen crab, Zuwai-crab)
---
We hope this information will be helpful.

Revision date: April 5, 2023
---
Share this article